This EVENT is an older event! It is from November 24, 2017
Please use the search box above to search for the new race!
November 24, 2017- Friday
Black Toenail Friday Half Marathon and 7.5 Miler
TYPE OF RACE
TRAIL RACE
Start Time : 11:00 AM
WHERE
Commerce Charter Township
Proud Lake State Recreation Area
48382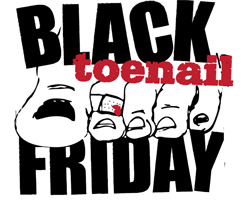 EVENT LINKS
EVENT DISTANCES
13.1 Mile : TRAIL RUN
7 Mile : TRAIL RUN
CONTACT
Richard Swor
313-304-0903
5310 Weeping Cherry Dr
Browns Summit, NC 27214
RACE INFORMATION
A new tradition has arrived! Last year's event sold out, so do not wait until the last minute to sign up! Relax on Thanksgiving and hit the trails for your holiday running race on Black Friday with Trivium Racing for our half marathon! This race will be taking place on the beautiful trails of Proud Lake State Recreation Area. The trails are well groomed and have very little in the way of hills! Drop the family at the mall, and come on out for a great race. One of the best parts about

The Black Toenail Friday Half and 7.5 mile race is that you can sleep in. With a 11:00 AM start time, you can relax and enjoy Thanksgiving knowing you have plenty of time before the starting gun goes off!
This event has been viewed 2683 times
Created on: 1-4-17 12:59:44